EVER FORWARD AGROUND AT PORT OF BALTIMORE
13 April 2022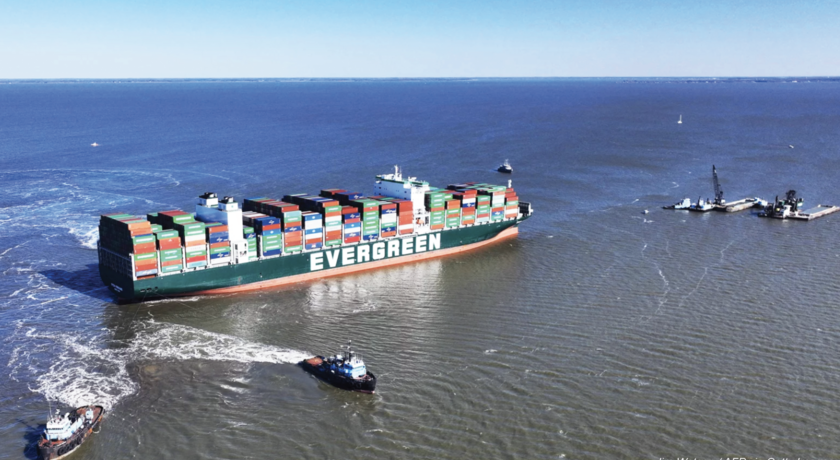 On March 13 at 20:40 EDT, the Ever Forward ran aground while departing the Port of Baltimore. No damage to the vessel was identified at that time. The Taiwanese liner Evergreen Marine declared general average for cargo owners on its 12,000 teu following two unsuccessful attempts to refloat the ship in Chesapeake Bay.
Following the dredging operation, which began on March 20, two efforts to refloat the vessel in the Chesapeake Bay, Maryland proved unsuccessful after tugs failed to dislodge it on March 29 and 30 as there did not seem to be any movement of the ship.
In a statement, Evergreen said General Average has been declared "in light of the increasing costs arising from the continued attempts to refloat the vessel." General Average is a principle of maritime law that essentially establishes that all sea cargo stakeholders (owner, shipper, etc.) evenly share any damage or losses that may occur as a result of voluntary sacrifice of part of the vessel or cargo to save the whole in an emergency. The basis behind this principle is that a party who has suffered extreme financial loss in order to save property belonging to others has the right to be compensated for such loss. The origins of General Average date back to the York-Antwerp Rules of 1890, but have obviously been modified numerous times since to adapt to modern supply chain conditions, most recently in 2004.
Ocean voyages pose constant dangers to vessels and the cargo aboard them. Luckily, cargo insurance can protect your financial interests in the event of unforeseen issues arising. Depending on the type of coverage you opt for, you will be protected against various perils your cargo and the ship may face at sea—including General Average calls. Cargo insurance helps provide peace of mind while protecting your financial interests. It is likely that the cargo owners with goods aboard the Ever Forward are looking over their policies now.
Update: The Ever Forward is finally free from the Chesapeake Bay.
After a month of being lodged in Maryland's Chesapeake Bay, the Ever Forward cargo ship is finally free. Thanks to the help of a high tide, several tug boats and barges crews plucked the the 1,095-foot ship free from the shallows off Pasadena, Md., on April 13,
Category: Insights